It's a rarity that we share other articles on Swimupstream, however, after coming across the story below - one that many of you might have heard during the coverage of the London Olympics - it was only worth telling again.
It starts with a guy by the name of Bryshon Nellum & his coach Ron Allice - and ends with the US flag bearer being watched by his biggest fan...one of the many inspirational stories at these past Olympic Games that taught us so much!
Be inspired. Share the story. And go make your dreams come true.
By
Alyssa Roenigk
| ESPN.com
LONDON -- Four years ago, few people believed Bryshon Nellum would become an Olympian. One man who did followed him here.
"His story has come full circle," said longtime University of Southern California track coach Ron Allice, who has been in the stands at Olympic Stadium for every race and medal ceremony featuring one of his athletes. "I'm so proud of what he's accomplished."
On paper, missing the 400-meter final by three one-hundredths of a second and winning a silver medal in the 4x400-meter relay might not look like much. But that's the thing about box scores -- they don't tell the story. And Nellum's is the kind from which movies are made.
[+] Enlarge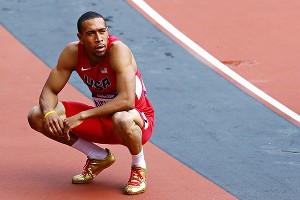 Paul Gilham/Getty ImagesBryshon Nellum won a silver medal as part of the men's 4x400-meter relay team.
A two-sport standout at Long Beach Polytechnic High School in California, Nellum was a top-rated wide receiver in football and the 2007 Gatorade Track and Field Athlete of the Year. He earned a scholarship to USC and began his freshman season in the fall of 2007. He was a star before he ever stepped foot on campus.
But on Halloween night the following year, his athletic career nearly came to an end. As Nellum was leaving an off-campus party, two men pulled up in a car and yelled out a gang slogan, then shot him three times in the legs he once joked were so valuable, he should have them insured. One bullet hit him in his left hamstring, one in his right quad and another in his left. Prosecutors called the shooting a case of mistaken identity; Allice believes the men, who were convicted in August 2011 of attempted murder and sentenced to 15 years each in prison, were motivated by jealousy.
No matter the reason, Nellum's injuries required three surgeries and as many years of intensive rehabilitation. Doctors told Nellum he would never again run at an elite level, but he believed his legs would one day carry him over an Olympic finish line. His coach believed, too, and was by his side every painful step of the way. Allice was there for Nellum's darkest, most painful days, so it seemed only fitting he would be there for his brightest.
"The setbacks and the obstacles and having to come back time and time again, that shows he is a very resilient young man. Watching him here, I feel like a proud dad," Allice said Saturday while navigating through the crowds in Olympic Park.
But it's not easy for a 72-year-old track coach to put aside recruiting calls and planning meetings and take off for two weeks in August. In his nearly 50 years of coaching at the high school and collegiate levels, Allice has sent more than 40 athletes to the Olympics (his first in 1964), yet he's never traveled to see them run in the Games. Until last week, he'd never been to Europe.
"I send them off and then I get back to work," Allice said. "I'm a coach. I don't have time for trips."
Before London, the 1984 Los Angeles Games were the only Olympics Allice attended, and that's because they came to him.
[+] Enlarge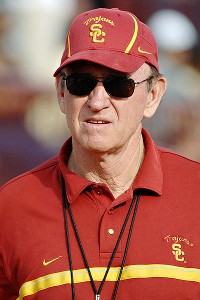 Kirby Lee/Getty ImagesRon Allice has been coaching the men's and women's track teams at USC since 1995.
But this year was special. "I had two young athletes running the first two legs of that relay," Allice says of Nellum, who ran the anchor leg of the 4x400 in the semis and opening leg in the finals, and his USC teammate, Josh Mance, who ran the second leg. "I wanted to be there for them."
Allice also wanted to fulfill a promise he made to his wife, Sharlene, who passed away in June 2011 at the age of 72 after a three-year battle with cancer.
"Once our three kids were grown, Sharlene traveled with me to every track meet," Allice said. "It's been a very emotional year."
At the U.S. Olympic track trials in Oregon in June, Allice watched alone as Nellum and Mance made the U.S. team (Nellum ran a personal-best 44.8 seconds to finish third in the 400). Several hundred miles away, Allice's friends from his hometown of Long Beach, where he and Sharlene met as high school students and he spent the first 32 years of his coaching career, held a fundraiser to send him to London. When Allice arrived home in Los Angeles, they presented him with plane tickets, hotel reservations and event tickets to show their appreciation for a coach who has meant so much to their city.
Thanks to them, Allice was in Olympic Stadium on Aug. 5 to watch Nellum cross the finish line in a photo finish with Jonathan Borlee of Belgium in the semifinals of the 400. And he was there to congratulate and comfort his athlete, to remind him how far he'd come after Nellum realized he finished ninth and missed making the final by 0.02 seconds. Five days later, Allice watched again as Nellum and Mance ran the opening legs of the 400 relay and then walked the track draped in American flags after finishing second to the Bahamas.
Later that night, Nellum's teammates voted him the U.S. flag bearer for closing ceremonies, an accomplishment Allice calls the highlight of Nellum's career.
"To be chosen by your teammates means there is tremendous respect for what you've done and who you are," Allice said. "A lot of people did very, very well for track and field in the United States, and for him to be chosen, that's pretty significant."
Allice will return to the track Sunday night to watch Nellum carry out the flag in Olympic Stadium, his final act as a member of the 2012 Olympic team. But the moment Allice says will remain with him longest is watching Nellum run the individual 400, completing one lap of the track and an improbable journey.
"It was a very special day," Allice said. It was also his 50th wedding anniversary.